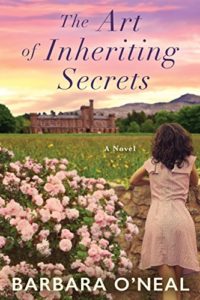 My Review
Most people have their favorite comfort foods. I have comfort "authors". These are the authors I pick up when nothing else appeals to me, when, for whatever reason, I can't find a book that grabs me. That's when I go to one of my comfort authors, knowing I'll fall into the story. And one of my comfort authors is Barbara O'Neal / Barbara Samuel. I love her books; it is that simple.
Which, brings me to my latest Barbara O'Neal read: The Art of Inheriting Secrets.
I stayed up late to finish it, and afterwards, while laying in bed thinking about her story (rather than sleeping), I realized what sets her books apart for me. Yes, she's an excellent writer who tells good stories with really unique characters who I'd love to know. But she does something else exceptionally well that is not as obvious; she makes you fall in love with her settings. Then, she creates a community within that setting that you want to be part of. It's so subtle and masterfully done that even with all the books of hers I've read I didn't realize it until now.
In the Art of Inheriting Secrets, she takes you a sensory voyage of sights, sounds, tastes, and smells to an English village—current day—with a great aging manor house, expansively green fields, exquisite food, and wonderful characters. I so want to go there. So, when you couple this with the excellent writing, story, and multi-layered characters, she's once again produced a story world I didn't want to leave.
Enjoy!   Pat Keelyn
Amazon Exclusive: 

Free for Kindle Unlimited Members
---
From Back Cover
When Olivia Shaw's mother dies, the sophisticated food editor is astonished to learn she's inherited a centuries-old English estate—and a title to go with it. Raw with grief and reeling from the knowledge that her reserved mother hid something so momentous, Olivia leaves San Francisco and crosses the pond to unravel the mystery of a lifetime.
One glance at the breathtaking Rosemere Priory and Olivia understands why the manor, magnificent even in disrepair, was the subject of her mother's exquisite paintings. What she doesn't understand is why her mother never mentioned it to her. As Olivia begins digging into her mother's past, she discovers that the peeling wallpaper, debris-laden halls, and ceiling-high Elizabethan windows covered in lush green vines hide unimaginable secrets.
Although personal problems and her life back home beckon, Olivia finds herself falling for the charming English village and its residents. But before she can decide what Rosemere's and her own future hold, Olivia must first untangle the secrets of her past.