Hi, Everyone.
Here is my list of short reads for the busy holiday season. They're mostly romance, but I added a couple of my favorite non-romance authors at the end. Also, as we move through November and December, I'll be reading more and add them here. Check back often and let me know what you think. Add your comments about the books, or recommendations, in the comment section below.
Pat Keelyn
P.S.  I've had so much reading these short stories and novellas that I've continued to update this page as find others I enjoy.  Look for the added date in red for the new stuff.
---
Romance & Women's Fiction
Let's start with a couple of Christmas stories.
---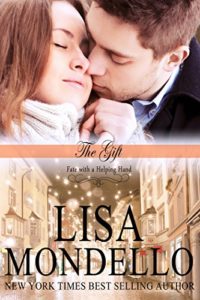 The Gift by Lisa Mondello (Short Story)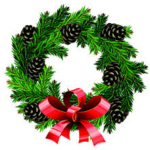 A bank full of money is no match for a heart filled with love!
From Pat — This is a lovely Christmas story, perfect for this time of year.
---
An Almost Perfect Christmas
by Donna Fasano (Short Story)
For fans of 'Me Before You' and 'The Fault in Our Stars'—An Almost Perfect Christmas brings together two people in need of the kind of love that can overcome tragedy. A heartbreakingly romantic novel that challenges each of us to live—and love—to the fullest… even when life is less than perfect.
When it comes to business, Aaron Chase knows how to succeed. But when his daughter, Izzie, asks him for the perfect family Christmas, the handsome widower feels at a loss about how to make his little girl's dream come true.
From Pat — This is a really unique story from a romance author.  It's both a heart-warming and heart-wrenching Christmas story.  But don't let that scare you.  It really is a wonderful story, beautifully told . . . just expect a few tears.  Oh, BTW, this is the first story I've read by Donna Fasano.  Now I have to read more.  
Exclusively on Amazon.      

---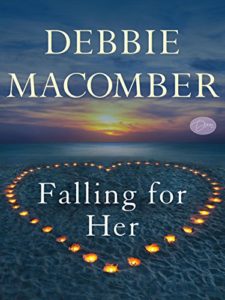 Falling for Her by Debbie Macomber (Short Story)
She's hired him to do carpentry projects around the inn, but for Mark, spending time with Jo Marie is a risk—to both his long-buried secrets and his carefully guarded heart.
From Pat — A short story set in Cedar Cover.  This one is just delightful, but then, it's Debbie Macomber.  
Exclusively on Amazon. (Kindle Single)


---
Added 12/22/17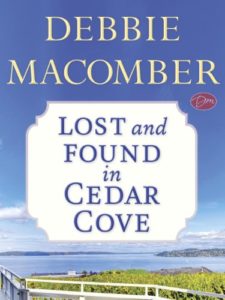 Lost and Found in Cedar Cove by Debbie Macomber (Short Story)
Jo Marie has big plans for her bed-and-breakfast. With the help of handyman Mark Taylor, she intends to plant a beautiful rose garden in time for her upcoming open house. Jo Marie and Mark rarely see eye to eye—especially on matters of home improvement—but she knows he has her best interests at heart. After the two walk the grounds, Jo Marie realizes that her beloved rescue dog, Rover, is missing, and at a time when she most needs a friend, Mark abruptly leaves. Confused by Mark's behavior and worried for Rover's safety, Jo Marie searches for her precious pup all over Cedar Cove. Rover is on an adventure of his own—one that will lead to a delightful surprise for two unlikely people.
From Pat — So Falling for Her got me hooked on Debbie Macomber's short stories set in Cedar Cover.  Another story about Jo Marie and Mark. 
Exclusively on Amazon. (Kindle Single)


---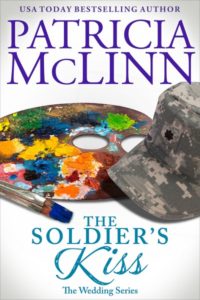 A Soldier's Kiss by Patricia McLinn (Short Story)
Prequel to The Forgotten Prince, The Wedding Series.
From Pat —  This is a delightful story, full or warmth and humor.  I really enjoyed it.  
Free when you join Patricia's newsletter list. Go here for your free copy.  https://instafreebie.com/free/QT6bK
---
Added 12/22/17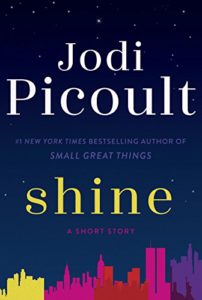 Shine by Jodi Picoult (Short Story)
Prequel to her novel Small Great Things.
Today is Ruth's first day of third grade at Dalton. The prestigious institution on New York's Upper East Side couldn't be more different from her old school in Harlem. Despite being the smartest girl in her grade, Ruth suspects that her classmates and teachers only see her dark skin. She also notices that Christina, the daughter of her mother's employer, treats Ruth very differently when they're hanging out with the popular girls rather than playing together. Ruth must navigate between two worlds, never losing sight of the dreams she has for herself—in hopes that someday, someone will see her for who she really is.
From Pat —  If you read women's fiction and haven't read anything by Jodi Picoult, I have to ask why not? She is quite simple a fabulous author with all the includes: strong writing, great stories, and multi-dimensional characters.  I haven't read Shine yet, but it's near the top of my TBR pile.  I'll let you know what I think once I'm done, but I'll be surprised if it isn't wonderful and moving.
Exclusively on Amazon (Kindle Single)


---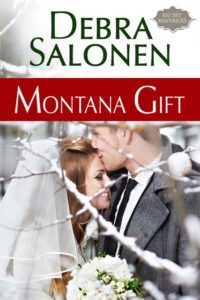 Montana Gift by Debra Salonen (Short Story)
When Louise Jenkins' granddaughter innocently asks, "Grandma, how did you and Grandpa Oscar meet?" Louise seizes the opportunity to set the record straight by writing her memoire. But she knows she can't tell her family's story without bringing up some painful memories. Will the raw truth jeopardize hers and Oscar's newfound serenity?
Oscar "OC" Jenkins has a lot to live down. Marietta, Montana's notorious Fish Whisperer had chapters of his life he'd like to forget, but he knows his wife of nearly forty years and he knows it's time to set the record straight.
When their newly enlarged family gathers to celebrate Christmas, Louise and OC share that gift most precious of all…the truth. Unvarnished. Some good. Some bad. A real life love story of two survivors who gave each other gifts beyond price and stayed together because love makes all things possible.
From Pat —  This is on my TBR pile, but Debra's books are always good. I expect no less from this short story. 
---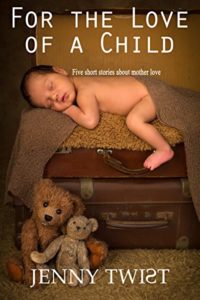 For the Love of a Child by Jenny Twist
(Short Story Collection)
Motherlove takes many forms
A desperate girl fights to keep her child.
An old woman remembers the betrayal of her unborn baby.
A child disappears and her family moves heaven and earth to find her.
A mother watches her beloved son sail away to almost certain death and vows revenge.
A young man returns to war-torn Spain to save his lover and the child she has fought to keep alive.
From Pat — This is a collection of five short stories about a mother's love.  Some are very short and one comes close to novella length.  I loved this collection, but then I love stories about love in all it's manifestations, and a mother's love is one of the strongest.
Exclusively on Amazon (Free on KU)


---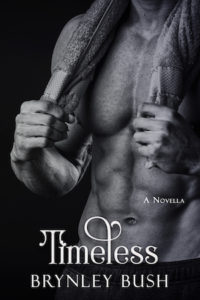 Timeless by Brynley Bush (Novella)
(Black Brother Series Book 2.5)
One tough FBI agent who longs to give her power away—just not to him.
One former Navy SEAL who wants to take it, but can offer her nothing in return.
One snowbound weekend in the middle of nowhere with no choice but to resolve their unfinished business.
Updated 12/21/17
From Pat — Oh my!!  Forget Shades of Grey. If you enjoy erotic romance, you really need to check out Brynley Bush.   First of all, her books are really well written with a good story and strong romance.  And yes, there's a lot of the erotic in there.  Again, if you enjoy really spicy books, she's excellent, and this novella is a good place to start. 
---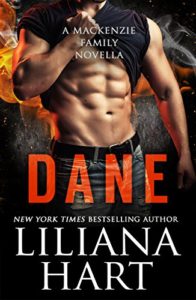 Dane by Lilliana Hart (Novella)
(MacKenzies of Montana Book 1)
Bad boy, Dane MacKenzie, is coming home to Surrender, Montana. It's been ten years since he left the woman he loved behind to make a name for himself, and now he's bound and determined to claim her once and for all.
From Pat — this one is very spicy.
---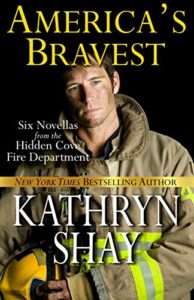 America's Finest by Kathryn Shay  (Novella Collection)
(Hidden Cove Fire Department Series)
Five Novellas.
The Rescue Squad in the Hidden Cove Fire Department deals with all kinds of emergencies: blazing fires, horrific car accidents and a myriad of medical calls. Like most firefighters, they also have complicated personal relationships due to the nature of their jobs. In AMERICA'S BRAVEST, each of the six novellas details both the love and work of one firefighter with overarching themes of arson, a blogger out to discredit them, and balancing their personal and professional lives.
From Pat — No one writes firefighter books better than Kathryn Shay, and this collection of five novellas in no exception. If you haven't already, this will get you hooked on her series. 
---
Non-Romance
---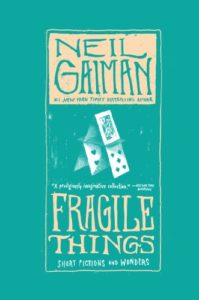 Fragile Things by Neil Gaiman
Such marvelous creations and more—including a short story set in the world of The Matrix, and others set in the worlds of gothic fiction and children's fiction—can be found in this extraordinary collection, which showcases Gaiman's storytelling brilliance as well as his terrifyingly entertaining dark sense of humor. By turns delightful, disturbing, and diverting, Fragile Things is a gift of literary enchantment from one of the most unique writers of our time.
From Pat — Neil Gaiman is a writer's writer, which means he's brilliant. I don't love everything he writes, but I have to read everything he writes so I don't miss those books / stories that I love.  This collection of short stories is the same way.  They are all different, some disturbing, some just wonderful  — you have to decide for yourself. 
---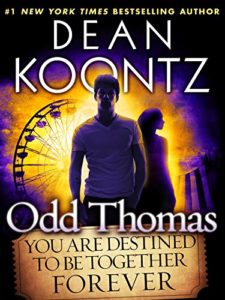 You Are Destined to be Together Forever< br />
by Dean Koontz
(An Odd Thomas Short Story)
From Pat — I love Dean Koontz's Odd Thomas series.  Yes, it's Dean Koontz, but it's also a pretty wonderful romance.  So when I saw he'd put our a short in that Universe, I snapped it up.  You need to read this.