Love this series!
I just finished Wild Thing, the third book in Judith Arnold's delightful series, The Magic Jukebox. I've enjoyed all three books, but Wild Thing may just be my favorite. If you're looking for a smart, sexy, feel-good read that will make you smile, check out this series. I'd read them in order – but that's just me.
Monica Reinhart is a good girl. A hometown girl. After college, she returned to Brogan's Point to help run the family business, an oceanfront inn. She's never done a wild thing in her life. When Ty Cronin sails into town, his wildness intrigues her. When the jukebox plays "Wild Thing," that wildness infects her, and soon she finds herself doing things she never would have imagined. But Ty could be big trouble. She hardly knows him. She mustn't trust him. Yet once she's taken a walk on the wild side with him, how can she go back to being a good hometown girl?
---
The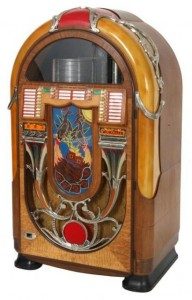 Magic Jukebox sits in the Faulk Street Tavern in the quiet seaside town of Brogan's Point, Massachusetts. No one knows what classic rock songs will come out of the jukebox when a coin is inserted, but every now and then, the jukebox will play a song that casts a spell on two bar patrons—a song that will change their lives and open their hearts to love.
The first two books in the series:  Changes and True Colors.